Dinteranthus vanzylii
Yellow flowered mesem from South Africa. Globose leaves mimic pebbles in very dry stony deserts, so it needs VERY little water at all times, and bright light. Only water when wrinkles appear. A cool pot helps to keep roots alive.
6.Indoors OK, but not for beginners, Outdoors not OK.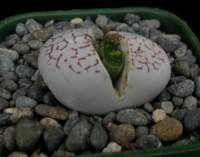 Dinteranthus vanzylii (w1665)
The pic/s tell the story.
Pot diameter: 8 cms
Shippable