Cyphostemma juttae
An archetypical pachycaul from the Grape Family, this classically fat nubile Namibian will peel off its bark for you at regular intervals. Huge summer leaves, ghostly torso in winter. Withhold water when leafless. Indoors only.
6.Indoors OK, but not for beginners, Outdoors not OK.
Cyphostemma juttae (w1295)
The pic/s tell the story.
Height: 18 cms Pot diameter: 15 cms
Shippable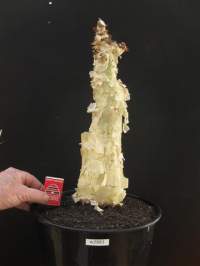 Cyphostemma juttae (w2883)
Can be shipped by depotting it first.
Width: 10 cms Height: 39 cms Pot diameter: 25 cms
Shippable