Astroloba foliolosa
Sharp leaved slow growing columnar miniature. Forms many upright spiralling leaf-clad stems from an offsetting base. Flowers tiny & insignificant. Easy indoors & possibly OK in rockery.
4.Indoors OK, Outdoors OK only if protected from winter rain.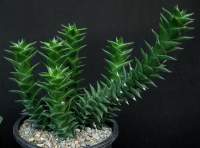 Astroloba foliolosa (w1176)
6 strong stems.
Height: 16 cms Pot diameter: 12 cms
Shippable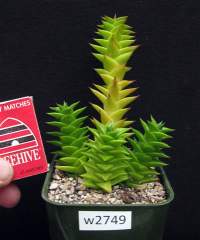 Astroloba foliolosa (w2749)
The pic/s tell the story.
Width: 9 cms Height: 13 cms Pot diameter: 9 cms
Shippable