Aloe haworthioides
One of the smallest of Aloes, for the windowsill, the rockery, or the exposed Central Madagascan outcrop. Hairs and cilia distinguish this lovely miniature, which has orange-red flowers.
5.Indoors OK, Outdoors not OK.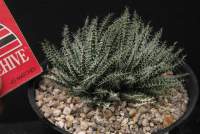 Aloe haworthioides (w2698)
2 rosettes at June 2013.
Width: 8 cms Height: 4 cms Pot diameter: 9 cms
Shippable
Aloe haworthioides (w2697)
The pic/s tell the story.
Width: 8 cms Height: 4 cms Pot diameter: 9 cms
Shippable