Euphorbia obesa Crest
Rare freak that arose at Coromandel Cacti in about 2003. 7 years later it was separated from the mother plant.
5.Indoors OK, Outdoors not OK.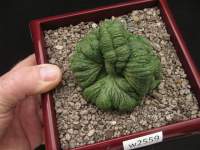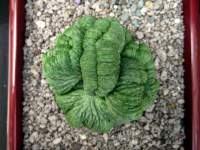 Euphorbia obesa Crest (w2559)
Lots of convolutions, 9 cuttings will be a possibility soon! Or just enjoy the windings! In red Kreta pot.
Width: 8 cms Height: 5 cms Pot diameter: 15 cms
Shippable