Euphorbia greenwayi
Basally branching mini-shrub with attractively marbled stems. Grows to around 35cms high. Unusual pinkish flowers in spring with long, thin red stigma lobes. Grow indoors in bright sunny position without overheating the roots.
5.Indoors OK, Outdoors not OK.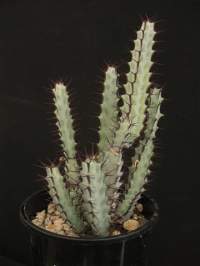 Euphorbia greenwayi (w1189)
The pic/s tell the story.
Height: 9 cms Pot diameter: 10 cms
Shippable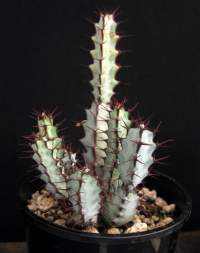 Euphorbia greenwayi (w1190)
More gainly, this one.
Height: 13 cms Pot diameter: 10 cms
Shippable