Mammillaria camptotricha
Birdsnest Cactus. Tangle-topped bodies form mounded clusters in time. Sweetly scented small white flowers in mid-summer. Probably best lept in a pot in medium light.
4.Indoors OK, Outdoors OK only if protected from winter rain.
Mammillaria camptotricha (w1311)
The pic/s tell the story.
Pot diameter: 12 cms
Shippable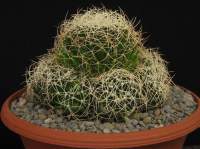 Mammillaria camptotricha (w1314)
A nice bowl of this lovely clustering cactus.
Pot diameter: 17 cms
Shippable