Haworthia nigra 'nana'
Tiniest form of the slow-growing H. nigra. Really suits a bonsai-style pot, with rocks, but should be OK outdoors, in fact should become even blacker in strong light. Probably not very frost-tolerant.
4.Indoors OK, Outdoors OK only if protected from winter rain.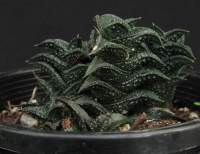 Haworthia nigra 'nana' (w1474)
The pic/s tell the story.
Pot diameter: 8 cms
Shippable